This year's Spring Carnival is upon us. With the football codes having their finals throughout October this year due to COVID-19, it has provided significant distraction from the races, though Racing Victoria still likes reminding us that they are 'here for the horses'. We still don't know if any crowds will be allowed at the racecourses but one thing is for sure and that is that horses will be made to race, be whipped and pushed well beyond their physical limits. So, if horse racing continues, then so must we. We'll be doing all we can to speak out for the horses through these difficult times and hope that you will join us. In this Newsletter:
CPR's Spring Racing Carnival plans
What you can do to help horses this Spring Carnival
Peter V'landys vs ABC court case update
CPR's soon to be released documentary 'One Year On'
OUR SPRING RACING CARNIVAL PLANS
Despite restrictions, we're excited about the many ways you can still take part in saying 'Nup to the Cup' this year and be a voice for the horses. With a year like no other, we're planning a Melbourne Cup like no other.

The Virtual 'Nup to the Cup' Picnic

We are very happy to announce we will again be joining forces with our 'Nup to the Cup' partner, Tenfingerz, for an online extravaganza that will have all the fun of our regular picnic. We're still working out the details but there will be music, dancing, human races and live crosses. If you would like to participate in the activities, simply watch on and be entertained by them, or perhaps even conduct your own human race, please keep an eye out for how to register here.

To keep up to date with our Virtual 'Nup to the Cup' Picnic, follow the event on Facebook, or check back to our website regularly here. If you have fun ideas for races, send us an email here.
The Virtual 'Nup to the Cup' Action for Horses

We may not be able to host our usual 'in real life' picnic and protest this year, but we can still protest the cruel Melbourne Cup from wherever else we may be on this day.

As a statement against animal abuse, please take a photo of yourself wearing your CPR 'Nup to the Cup' face mask (available here), or if you prefer, simply hold a sign stating 'Say Nup to the Cup' and post it on all of your social media pages at, or as close to 9am as possible, on the morning of the Melbourne Cup.**Make sure you use the hashtag #NupToTheCup along with any of these optional extras…
#YouBetTheyDie
#HorseRacingKills
#HereForTheHorses
#MelbourneCup
To more details and to keep up to date with our Virtual 'Nup to the Cup Action for Horses', follow the event on Facebook, or check back to our website regularly here.

WHAT YOU CAN DO

Watch and share these short videos

For other previous and soon to be released videos, please check and subscribe to our YouTube channel here.


The following two videos will serve as a reminder why even if ignoring the cruelty, there's nothing glamorous about horse racing.
Here's a re-cap from our last e-newsletter covering all the other ways you can still help horses through a COVID-19 Spring Racing Carnival.
Know someone who still supports horse racing?
'10 Reasons Why You Should Not Support Horse Racing' is an easy to read, concise document which highlights the cruel standard practices of horse racing.Please email, message and share it both broadly and ideally also directly with anyone you believe is unaware of exactly what it is they are supporting. You can read, share and download '10 Reasons Why You Should Not Support Horse Racing' here.


Just released! 2020 Collector's T-shirts
We've also just released our brand new Collector's Item Limited Edition 'Nup to the Cup 2020' t-shirts. This eye-catching design by Melbourne artist Sebastian Berto, represents the horse as they should be. Specifically created as part of our campaign against the 2020 Spring Carnival season, the artwork compliments our 2020 Farshuns on the Field – Nup to the Cup theme. Available here.


Melboure Cup Sweep
It's a long running (but slowly dying) tradition to have a Melbourne Cup Sweep in the workplace, community group or local pub on Melbourne Cup Day. However, there's a new tradition that's emerging and that's to say "Nup to the Cup". It can be an awkward moment for some, especially if you are the only one in your group who objects to it, but please remember you are not alone – you are joining the countless others across the country who are refusing to take part in cruelty, even under social pressure.
We suggest you do the following:
Download and print one of our posters and display it wherever you can to get the message across – available here.
Wear your CPR merchandise everywhere you go – available here.
Politely refuse to watch or partake in any Melbourne Cup celebrations and if possible join other likeminded individuals as a sign of respect for the horses.
If you are in the company of others who agree, hold an alternative celebration.
Donate the money that you would have otherwise spent on a sweep to an animal charity of your choosing.
If you are having an alternative celebration, try to make sure it respects all animals, not just horses by making it vegan.
Perhaps, as an alternative to watching the Melbourne Cup, you could invite people to watch the ABC investigation "The Final Race' that aired in October 2019 here and the more recently released investigative documentary by the Animal Welfare Foundation Tierschutzbund Zurich here.
Join our Virtual 'Nup to the Cup' Farshuns on the Field picnic. Stay tuned for updates here.
Join our Virtual 'Nup to the Cup' Action for Horses. Details here.
Peter V'landys vs ABC defamation case update
As previously reported, Peter V'landys is suing the ABC for defamation over 7:30's The Final Race – watch here. The court case was heard on the 23rd and 24th September however due to delays and prolonged questioning from both sides, another two days have been set aside to re-commence on the 14th October. It was interesting to note that Mr V'landys acknowledged it was good that the program exposed animal cruelty, yet he still maintains that he has not yet watched it. Read more here.

One Year On – a CPR documentary
We will soon be releasing a documentary that looks deeper into what happened at the Meramist slaughterhouse in QLD and what, if anything, has changed in the last 12 months in the treatment of discarded/retired racehorses. The documentary will also delve into other cruel standard industry practices. Keep an eye out on our website, Facebook page or YouTube channel for its release. Once again, thank you for your ongoing support for the horses used and abused by the racing industry.
Remember… speak up, always!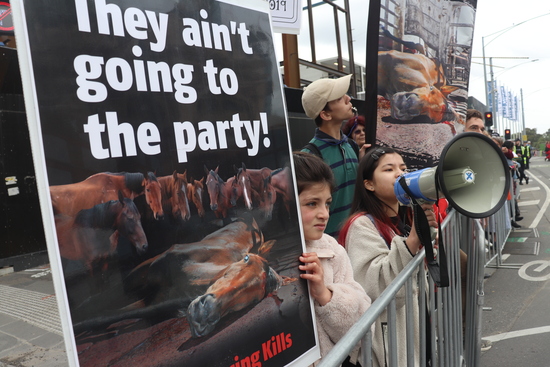 Image by Dayaal