Dear Supporter,

Whilst we are arguably in the midst of the most challenging time we have yet experienced throughout the COVID-19 pandemic, horse racing continues just as it has throughout this entire crisis. This means so does the cruelty, the injuries, the deaths, the lies and the cover ups.

In this newsletter:

Toxic horse meat kills Australian dogs
Thousands of unwanted UK racehorses slaughtered
Three horses killed in one day on Australian racetracks
Horses neglected and starved
Insufficient penalities for severe abuse
My Cousin James has part of his tongue removed
Industry forum reveals we are having a real impact
Video exposes the horrors of New Zealand jumps racing
Darwin Turf Club in disarray
Spring carnival plans and #NupToTheCup
Merchandise
and more…

TOXIC HORSE MEAT KILLS AUSTRALIAN DOGS

Earlier this month, CPR once again called on the EU Commission to urgently end their import of horse flesh for human consumption from Australia. The calls came after devastating news broke that over twenty dogs had died and over sixty were sick, many with what would be lifelong illnesses, after consuming toxic horse flesh and claims were made that those horses were originally destined for the human consumption export market.

In our open letter to the EU Commissioner for Heath and Food Safety, Stella Kyriakides, we explained the horses are believed to have been grazing on a plant native to northern Australia, Indigofera linnaei, before being collected for transport to the Meramist slaughterhouse. Due to Covid-19 regulations they are claimed to have then been rerouted to a knackery in Victoria – their flesh therefore ending up in local pet food products instead. This plant contains indospicine, a toxin that causes severe liver damage. While dogs are particularly susceptible to this toxin, it is unclear as to whether humans may also be negatively impacted, however, studies demonstrate that the meat of any horse from northern Australia slaughtered for human consumption has the potential to cause harm to consumers. Read our open letter in full here.

This all occurred just weeks after we joined Animal Welfare Foundation, Eurogroup for Animals, and Animals' Angels USA to present evidence to the EU Commission of systemic breaches to horse meat export regulations from Australia, Uruquay, Canada and Argentina – available here. At this meeting the EU officials stated that they were "touched" by the images we presented and that this should not happen. Yet they refused to make any formal acknowledgement of the ongoing breaches, or commit to any kind of appropriate action.

This subsequent incident of toxic horse meat is further evidence that the safety of Australian horse meat for human or other animal consumption cannot be guaranteed.

We have also continued to place pressure on the National Horse Traceability Register Working Group who are dragging their feet on producing an adequate register and therefore further placing horses, humans and other animals lives at risk.

You can help by:

1. Joining the cause to end horse meat exports now here.
2. Writing to the chair of the traceability working group, Stuart McLean, and politely demanding they live up to their responsibility and produce an adequate register as a matter of urgency here.
Our hearts go out to all the horses and dogs who lost their lives in this tragic event.
THOUSANDS OF UNWANTED UK RACEHORSES SLAUGHTERED
Last month, our international partners at Animal Aid UK released their investigation into the routine slaughter of former racehorses. Like Australia, the numbers are shockingly high, with at least 4,000 former racehorses sent to slaughterhouses in Britain and Ireland since the beginning of 2019.
Harrowing video evidence shows terrified and often exhausted horses come face to face with their executioner, some of whom are just two years old.

The full UK investigation cannot be seen in Australia at this time, however excerpts can be viewed in the the below articles.

BBC News

Daily Mail

UK residents can sign the petition to limit horse breeding here.
Everyone can take the pledge to never bet on or attend a horse race again here.

THREE HORSES KILLED IN ONE DAY ON AUSTRALIAN RACETRACKS
Last Saturday, at least three horses lost their lives whilst being raced – two at Royal Randwick, NSW and one at The Valley, Vic.
Three-year-old filly Xtremetime fell, suffered an upper near forearm fracture and was killed. Four-year-old gelding Brandenburg sustained biaxial sesamoid fractures and catastrophic suspensory failure to the near foreleg before being killed. Three-year-old filly Widaad, collapsed after the finish line of a suspected heart attack.
Our soon to be published Deathwatch 2021 Report, reveals things have not gotten better for horses on Australian racetracks. Indeed they are much worse, but the public outrage to such carnage is most certainly growing. Stay tuned!
Rest in peace Xtremetime (left), Brandenburg (centre) and Widaad. All so young. All deserved so much better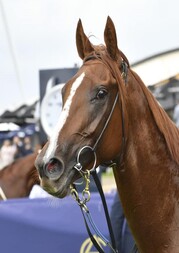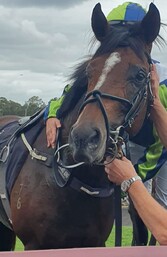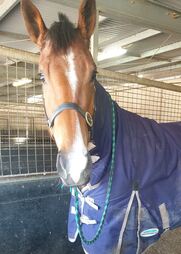 ANOTHER SLAP ON THE WRIST!
This is Chancery. He was used to race sixty-four times before being starved by his trainer Des Waldock.

Racing and Wagering Western Australia found Waldock to be guilty of failing to provide the ten-year-old gelding with proper and sufficient nutrition and suspended his trainers license for three months.

In deciding his penalty the stewards took into account (among other things), that Waldock had eventually rehomed the gelding and that his condition had therefore since improved. Meaning, Waldock suffered a lesser penalty because members of the public and other industry participants have paid for and put in the time, care and energy to ensure Chancery is nursed back to health.
It should never be the job of others to put their hands in their pockets whilst this multi-million-dollar industry and their apparent 'Off The Track' programs continually fail these horses. Nor should penalties for such neglect be reduced due to the work of others.

LEO WAS NOT SO LUCKY
Twelve-year-old Leo (Leonardo Lion) was bred into the racing industry in 2008. He never actually made it to the racetrack in all that time, yet when he was rescued just a few weeks ago, the authority still had him registered as an ACTIVE racehorse.

There could not be a more pertinent example of how this industry has no idea or concern for where so many of the horses they bring into the world are, and how they are being treated.
Despite all attempts over ten long days, Leo's rescuers at Bella Vita Horse Sanctuary were unable to bring him back to health. Leo tried so hard but his body shut down and he passed away on August 8 2021.

He remains listed as an ACTIVE racehorse by the authority.
MORE INSUFFICIENT PENALTIES FOR SEVERE ABUSE
There is no shortage of evidence to demonstrate both trainers and jockeys repeatedly get let off with little to no repercussions for severe abuse to horses in racing.
NSW trainer, Kim Waugh, and jockey, Serg Lisnyy, are no exception. Earlier this year they were charged with six separate counts of serious cruelty involving the registered racehorse 'Tarsus'. The three-year-old suffered deep lacerations down his flank after Waugh ordered Lisnyy to use the spurs in trackwork. Another jockey at the Waugh stable was found to have kicked Tarsus in the stomach. All continue to be registered industry participants. A breakdown of the charges and penalties can be found here.
On appeal, jockey Serg Lisnyy had his six-month disqualification for an act of animal cruelty through the excessive use of spurs and the use of unapproved spurs reduced to a five-month suspension, meaning he could still take part in trackwork, trials and jump-outs.

In allowing Lisnyy back for trackwork whilst serving his suspension from racing, appeals panel chairman Richard Beasley stated: "He has a mortgage, other debts, and a young family to support. He will suffer financial hardship from a suspension, but a disqualification will deprive him of any capacity of earning an income from the racing industry."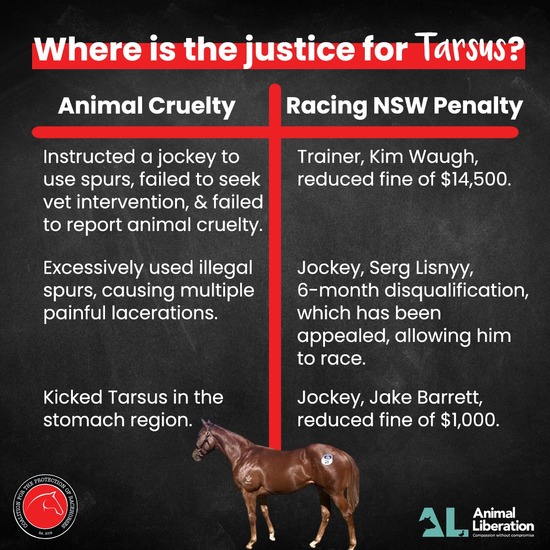 PART OF HIS TONGUE REMOVED
Four-year-old gelding, My Cousin James, had his tongue tied for so long that part of it became necrotic and had to be surgically removed.

Ballina trainer Steven Phelps is currently serving a four-month disqualification. More here.

A survey of Australian trainers analysed 535 responses and found:23% reported complications after the use of ties, including lacerations, swelling, bruising and head shyness. Other studies have also observed difficulty swallowing, anxiety, 'blue tongue' and permanent tissue damage. Learn more here.

A horses tongue should never be tied for any amount of time, yet in horse racing, it is standard practice. Sign here to support a NSW ban on tongue ties and other instruments of cruelty here.
INDUSTRY FORUM REVEALS WE ARE HAVING A REAL IMPACT
Although the suffering of horses used by the racing industry continues, their own International Forum for the Aftercare of Racehorses (IFAR) 2021 gave many hopeful indications that our work continues to be a clear threat. Although the speakers made it abundantly clear that public perception is their main motivation, not concern for the horses, there is absolutely no doubt that slowly but surely we are having an impact. Take a watch – and let's keep up the good work!

The recording here is the final of four. Highlights are listed below for the time poor and those for little tolerance for rhetoric.
9:00
17:30
29:45
40:00 – informative section on bone fatigue

For the record – the graph presented at 59:20 is entirely inaccurate.

All four recordings available are here.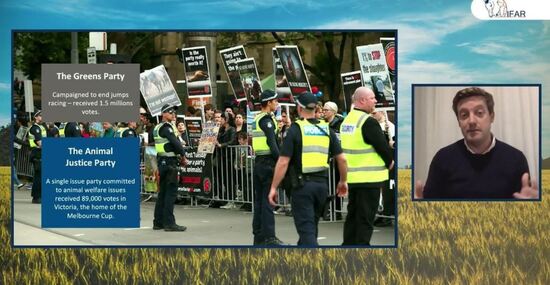 VIDEO EXPOSES THE HORRORS OF NEW ZEALAND JUMPS RACING
On the eve of New Zealand's jumps racing season, CPR released a damning video, exposing the horrors of the so-called 'sport'.
A compilation of New Zealand's brutal 2020 jumps racing season was circulated across the country showing the inherent cruelty that comes with forcing horses over obstacles at high speeds, whilst in fear of the jockey on their back.

Many New Zealanders were not even aware that jumps racing occurs in their country. Like Australia, support and attendance is dismal, but the cruelty is the same. Watch the powerful compilation here.
Sadly, at the same time that this footage was making its way around NZ, Fulmineus became the first reported victim of the 2021 jumps racing season in Australia. See his devastating death here. Five-year-old Mighty Jim has since joined the list. See his horror fall here.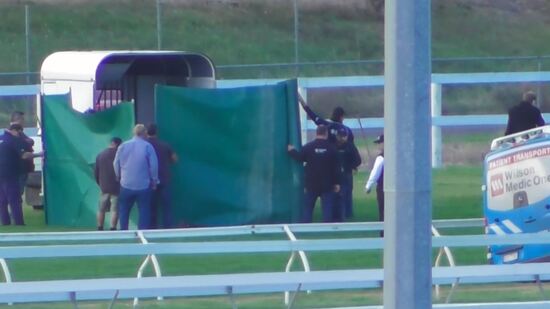 Of course, COVID-19 regulations have made it near impossible for us to be at the racetrack to protest the past two jumps seasons, however we did manage to take advantage of eased restrictions and gather outside the Warrnambool track for Grand Annual Day of the May jumps carnival. Huge thanks to all who made the trip. Our voices were heard loud and clear from both outside and within the course, where we spoke out for Fulmineus and all the other horses who have lost their lives in the name of gambling profits and entertainment. Protest video snippet here.

DARWIN TURF CLUB IN DISARRAY
Dead and injured horses, hospitalised jockeys and a $12 million dollar scandal has placed the Darwin Turf Club in the headlines plenty of late.
On July 28, three jockeys came crashing down on the racetrack in Race 3 and all were rushed to hospital. More here. There was no word on the wellbeing of impacted horses Somervell, Supreme Times and Jomera, in the days that followed, until it was finally confirmed four-year-old Jomera had lost her life in the incident.

The track is also the focus of a recently released ICAC report finding their $12 million grandstand grant to be shrouded in "corruption, misconduct, breaches of public trust and mismanagement of public resources", implicating senior public servants, local businessmen and Darwin Turf Club members. At the centre of the scandal is the turf club chairman Brett Dixon, whose construction company, Jaytex, was awarded the grant. More here.

Just a few weeks prior to Jomera's death, four horses at the track bled from the nostrils in one race day – three in the same race.
And just last month the track had another multiple-horse fall with three jockeys again rushed to hospital, one in an induced coma. Three-year-old gelding, The Unknown was killed. More here.

Video footage from the July 28 incident, which a track staff member described as "brutal", has been withheld (as is footage of the race where The Unknown lost his life). Racing NT CEO Andrew O'Toole ignored our repeated calls regarding the Jomera incident however he did however make this very telling comment to the media "This is something we didn't need in Cup Week."
SPRING CARNIVAL PLANS & NUP TO THE CUP
With horse racing guaranteed to be allowed to continue right through the Spring Racing Carnival, we must also prepare to be present outside the various racetracks as much as we can. Whilst it is currently looking as though our usual #NupToTheCup party outside the Flemington course will have a limited capacity or may not even be possible, things may look a little different in your neck of the woods.

If you are able, please do consider running your own #NupToTheCup event or attending one near you. CPR support kits are available and registrations can be made here. One 2021 #NupToTheCup has already been organised for Fortitude Valley, QLD which looks like it will be a blast! Details and tickets available here.
Join the rapidly growing movement to make the first Tuesday of November a party for the animals! Say #NupToTheCup.
For your private or public #NupToTheCup support kit click here.
Stay tuned for our soon to be launched #NupToTheCup in the Workplace support kit.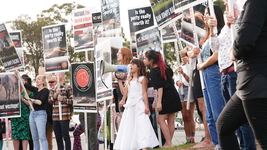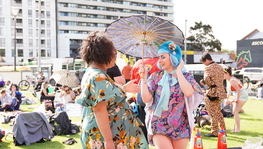 MERCHANDISE
With lockdowns impacting our opportunities to speak out for racehorses in real life, now more than ever we can use CPR's official merchandise to help spread the message about ending horse racing cruelty. Take a look here!


Collectors Item t-shirts designed by Melbourne artist Sebastian Berto

Stickers

Caps & Beanies

Hoodies & more… Purchase here
Thank you for reading and remember… speak up, always!
CPR relies 100% on donations to fund our investigations and campaigns. Without the generosity of our supporters we would not exist.
Thank you to all of our supporters who have donated recently. It is much appreciated and allows us to continue working toward justice for horses.
Click here to donate