Dear Supporter,

It has not been all that long since our last e-news yet there is so much to report on, both good and bad. And, with the Spring Racing Carnival of Cruelty in full swing there is no shortage of controversy. Read all about it below, along with plenty of ways you can take action for horses.

In this newsletter:
Spring carnival crowds and controversy
Remembering the Melbourne Cup death of Anthony Van Dyck
Rose of Peace – the forgotten Melbourne Cup Day victim
Victorian parliament supports a ban on whips
Whip use to be challenged in Tasmania courtRacing NSW rule against horse slaughter is not what it seems
CPR to protest at the Melbourne Cup
NSW trainer and staff found guilty of animal cruelty
Gai Waterhouse backs campaign to reinstate SA jumps
10 ways you can help horses this Spring Racing Carnival
and more…

LIMITED CUP CARNIVAL CROWDS TO RETURN

Even though horse racing has been allowed to operate throughout the entire pandemic when it is ultimately the antithesis of an "essential service", it is they who have been guaranteed 10,000 attendees to three major Vic events – Melbourne Cup, Oaks Day and Stakes Day. This Saturday's Derby Day was later announced to be allowed 5,500. Meanwhile, at our #NuptotheCup picnic, we will be limited to thirty people attending.

Vic Minister for Racing, Martin Pakula, even has the nerve to openly admit that, unlike last year, they believe they can essentially get away with this blatant double standard due to the desperation of Victorian's to get out of lockdown. It's nice to know Vic Labor are happy to take advantage of Victoria's current yearning for life to resume to at least some level of normality through giving special treatment to gambling and animal abuse.
To rub salt into the wounds, limited crowds were allowed to return to the Warrnambool track on October 14, as part of Victoria's first trial for "hosting events in the vaccine economy." Media reported on what a successful day it was, and how happy people were to be out again to experience at least some level of normality. The racing industry sure did their job at providing the usual level of normality, with four-year-old Rokara killed on the track in the opening race of the day.
Did The Age just happen to not notice this, or did it not fit the feel-good narrative? Would Rokara's death have mattered if it happened in the Melbourne Cup? See the article here. A video of beautiful Rokara being recently paraded for sale, as an object for gambling profits can be viewed here. Rest in Peace Rokara.
SIR DRAGONET – THE FIRST CARNIVAL VICTIM (that we know of)
Five year old Sir Dragonet was killed on the morning of the first big Spring Racing Carnival event, The Caulfield Cup, after his leg broke whilst in trackwork at The Valley. More here.
A recent GIPA application by the Office of Mark Pearson (AJP NSW) found that trackwork deaths are almost as frequent as race day deaths, however we rarely learn of them as they are not reported on by the industry, meaning our Deathwatch Report figure of one horse being killed on Australian racetracks every 2.5 days, although shocking, is still grossly understated. Learn more here.

Sir Dragonet's rider, Ben Allen, told racing.com that morning "It only happens to the good ones". If by 'the good ones' he meant those who make millions of dollars, then perhaps Mr Allen needs to do his research.
As stated above, the death of four year old Rokara at the Warrnambool track was just two days prior, yet, the media never even gave him a mention. That's the difference between a horse with a prize money of $32,905 and one who has won his owners over $5 million.
Rest in Peace Sir Dragonet
CARNIVAL PROTOCOLS HIGHLIGHT WHY SO MANY HORSES ARE KILLED ON TRACK
The most controversial scratching yet at this Spring Racing Carnival is being sent off to race in Sydney instead, despite six vets advising Racing Victoria that the horse is too lame to be raced.
Trainers Ciaron Maher and David Eustace, whose Cox Plate hope was Sir Dragonet, had their four year old, Gold Trip, forcibly withdrawn from the Cox Plate after more stringent veterinary procedures put in place by Racing Victoria, for the carnival only, found his lameness had become worse.
Luke Murrell, co-founder of Gold Trip's syndicator Australian Bloodstock said "The Rosehill Cup in Sydney, it's worth good money and he'd be well suited in that. My understanding is that he's got an invite for Hong Kong and Dubai. He could go there or we could just wait for the autumn in Sydney." More here.
Meanwhile, Harpo Marx was a late scratching last Saturday from the Moonee Valley Cup due to a lesion identified in his left fore-limb. This was only discovered due to diagnostic tests being employed solely on horses engaged to run in the Melbourne Cup. Had he not been a Melbourne Cup runner also, this would have presumably been missed and he would have therefore been raced.
Four year old gelding Young Werther has been taken out of the upcoming big race after a CT scan, required for Melbourne Cup runners only, identified a lesion in a sesamoid that presented as a risk. Trainer Danny O'Brien stated "The protocols are there for exactly these situations – to pick up things that you wouldn't have found through your normal veterinary procedures."
All of the above further demonstrates that countless high risk horses are being sent out on racetracks across the country every single day of the year, where such veterinary protocols are not put in place, simply because the media spotlight is not on them as it is throughout the Spring Racing Carnival.There is an Anthony Van Dyck on Australian racetracks at least every 2.5 days. It's just that no one is usually paying attention. But that is finally beginning to change.
MELBOURNE CUP CT SCANNER BREAKS DOWN
Sixteen of the thirty-five Melbourne Cup horses will not be CT scanned before the big race due to the machine breaking down.
CT scans on Melbourne Cup running horses only, were made compulsory this year, as part of Racing Victoria's latest attempts to redeem themselves after such a long spate of Melbourne Cup deaths.
Racing Victoria's General Manager of Integrity Services, Jamie Stier said, "Whilst our preference remains to use the technology offered by the standing CT scanner, in its temporary absence we know that the X-rays taken at U-Vet will provide us with improved oversight of the remaining horses, particularly in comparison to previous years, and help to identify any areas that require further examination.
"This was deemed the fairest and most appropriate decision in the circumstances so as not to penalise the connections of those horses who had not been submitted for a standing CT scan since 16 October by excluding them from the race." More here.
It's good to be reminded that connections are the priority for the industry.
Whilst this story is making headlines, thousands of horses who are used to race across Victoria and the rest of the country throughout the year never undergo x-rays, let alone CT scans prior to being raced.
THE MELBOURNE CUP DEATH OF ANTHONY VAN DYCK
Anthony Van Dyck was the eighth horse to be killed at Flemington on Melbourne Cup Day in the past nine years. Stewards stated he "sustained a serious racing injury near the 500 metres and was humanely euthanised." The injury was in fact a fracture of the fetlock, evident by footage capturing the way the hoof flaps in the opposite direction to the normal movement of the hoof. In instances like this catastrophic injury, the only humane option is to immediately euthanise the horse. Instead, Anthony Van Dyck was loaded onto a float and taken off the course to be killed. The Coalition for the Protection of Racehorses has no doubt this was to try to avoid more bad publicity for Australia's most famous race. The suffering Anthony Van Dyck would have experienced in those moments would have been unbearable. To have prolonged his suffering is simply unacceptable. Read more including a statement by a former industry vet here.
Unlike every other horse killed in racing throughout the year, Anthony Van Dyck's death made global headlines for the days and weeks that followed. A horse dying in any race on any day is a tragedy, but to the racing industry, it is Melbourne Cup deaths that are of major concern. A follow up investigation into his death found he was lame a month before he broke down in the Melbourne Cup, that a nerve blocker was administered in the weeks leading up to the Melbourne Cup, and that although a CT imaging machine was available to the horse's trainers, which would have shown the nature and severity of his injury, it was not utilised.
A horse being horrifically injured when the eyes of the world are watching calls into question how we can allow horses to be killed in the name of gambling profits and entertainment. Anthony Van Dyck's death has forced Racing Victoria to implement forty-one new safety guidelines for entering horses into the Spring Racing Carnival and the Melbourne Cup, including improved veterinary procedures and screening measures. These guidelines do not impact horses being used in all other races at all other times across the country, clearly demonstrating that it is public perception the industry cares about, not the horses. This years Deathwatch report shows there is at least one Anthony Van Dyck every 2.5 days on Australian racetracks and their lives all matter as much as his. He was four years old.
Read the full Deathwatch Report 2021 here.
Sign to send an automatic letter to your racing minister demanding the reporting of all racing related deaths be made mandatory and publicly available here.
ROSE OF PEACE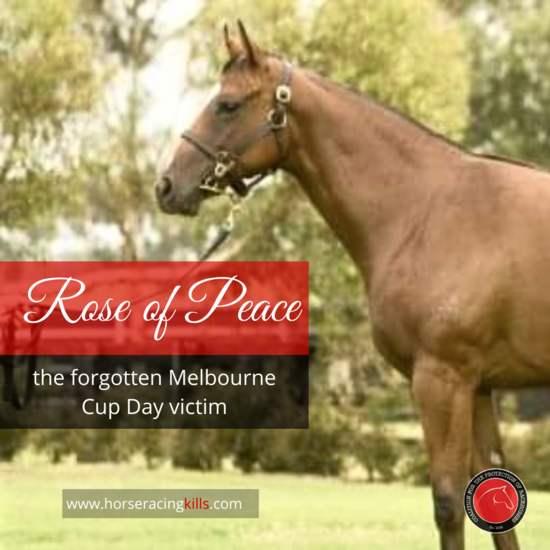 When we remember the names of horses killed at the more recent Melbourne Cup events, the public, the media and even ourselves, seem to have forgotten about Rose of Peace. Although not killed in the Melbourne Cup race itself, Rose of Peace was killed at the 2012 Melbourne Cup in Race 4 – the Herald Sun Stakes.
There have of course been previous Melbourne Cup deaths, but her's was the beginning of a spate now totalling eight (at least) over nine years.
According to stewards: "Near the 600m Rose of Peace faltered and broke down in the near fore leg resulting in D Oliver being dislodged. Rose Of Peace was subsequently humanely euthanised."
The day went on, as it always does, to see Green Moon cross the finish line first in the Cup as the crowd cheered. Rose of Peace never made headlines. It appears her death wasn't even acknowledged, just like the countless others who have been injured and killed on racetracks since. Perhaps she would make headlines now.
She was five years old.
VICTORIA'S PARLIAMENT SUPPORTS A BAN ON WHIPS IN RACING
You may recall in our September e-news, we called on you to support Andy Meddick's (AJP) proposed motion to the parliament to support a ban on whips in thoroughbred racing. Watch the reading of the motion here. Well, that went splendidly and the Victorian Parliament took an official position that they were in favour of such a ban. This is a very important step towards banning the whip not only in Victoria but across Australia.
Aside from legislative change from state to state, Andy's speech made it clear that the only other way the use of whips will be banned is by the racing industry themselves. Racing Victoria and Racing NSW each have 35% of the vote on the Australian Racing Board. With Racing Victoria and now the Victorian Parliament already onside, WE NEED YOU to put pressure on Racing NSW to get on board and #ditchthewhip. For inspiration to fight against whip use, see this video of Saxton Rock being beaten with the whip, on and in the vicinity of his head, fourteen times by a rival jockey here. She received a fourteen day suspension before being allowed to return to racing. Take action here.
Beating horses with a whip is just the tip of the iceberg in this cruel and ruthless industry. So long as horse racing persists, banning whips is the absolute least they can do.
Huge thanks to Andy Meddick MP and his team for bringing this motion to the parliament, and to you for your ongoing dedication to this cause.
WHIP USE TO BE CHALLENGED IN TASMANIAN COURT
PETA Australia and the Coalition for the Protection of Racehorses met with the animal welfare manager for Tasracing, Tasmania's racing authority, several years ago, to express concern over the use of whips, point out that whipping violates the state's anti-cruelty statute, and offer support to help implement changes. Their refusal to address these violations has led to a private prosecution being filed in the Tasmanian courts.
These charges, filed by PETA Australia, highlight that whipping a horse is a crime both on and off the racetrack and that horse racing has long been given an unofficial free pass. If you did exactly the same thing to any other animal, you would be charged with animal cruelty. This important case will challenge this anomaly
RACING NSW RULE AGAINST HORSE SLAUGHTER IS NOT WHAT IT SEEMS
The recent case of a high-profile trainer, Trevor Sutherland, winning his appeal against a three-year disqualification from racing for sending horses to slaughter, brought to light two deeply concerning loopholes in the NSW rules of racing – the rule Racing NSW repeatedly claims sets them apart from all other states. We have officially asked Racing NSW five times if, when drafting the rule, this was intentional or an oversight and also whether the rule will be amended to ensure NSW horses are indeed protected from slaughter as they claim, but they refuse to respond.

In short – what the Sutherland case exposed was that according to the appeals panel:1. Racing NSW's local rule 114, which they claim is designed to prevent horses being killed when no longer wanted, does not capture circumstances of intent if it is decided it was not the "primary intent" of the person sending them to be killed (something we have reported on previously)and2. the words "similarly disposed of" used in LR114(5)(e) which states a horse is not to be, directly or indirectly, sent to an abattoir, knackery or similarly disposed of should be interpreted to mean "a horse is disposed of (killed) for the purpose of its meat being used as food." Therefore, if a racing participant kills a thoroughbred horse on their own property, and buries them in a pit, for example, they would presumably not be in breach of the rule.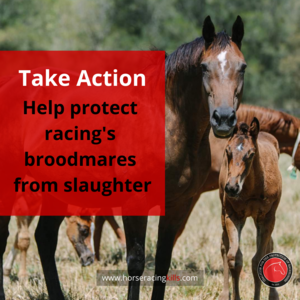 The continued refusal by Racing NSW to answer our simple questions regarding both of these loopholes and also our question as to whether mares used for breeding are protected under the rule, indicates that they either intentionally created this loophole, or, at best, are now aware of it, but are refusing to make the required amendments that will do as they claim and protect all horses under their jurisdiction from being killed when no longer wanted.
When the Racing NSW retirement plan and local rule 114 was first announced, CEO Peter V'landys stated "The youth of today care more about animal welfare than any other generation and we need to keep up with their expectations… Every horse in NSW will be rehomed, whether it has raced or not." Sadly, it has become clear this statement was nothing but a smoke screen, designed to dupe the public into believing that the horse racing industry was finally taking responsibility for the lives of the horses they could not exist without. Please send an email to Racing NSW asking them to amend local rule 114 to ensure the protection of ALL racehorses, including those used for breeding. [email protected]@[email protected]
For background on the Trevor Sutherland case click here.To read our letter sent to Racing NSW seeking clarification on this important issue, click here.
IT'S ON!
We have two protests and a picnic in the park happening and you're invited.
IMPORTANT: Due to outdoor gatherings limited to 30 people, you must register via email noting which event you plan to attend. RSVPing to this facebook event will not count as a registration of attendance. Please read the event descriptions in the links below so that you are aware of all the details.
EVENT 1: Derby Day Protest outside the Flemington Gates 448 Epsom Road – this Saturday 30 October 10:30am – 1pm. More details here.
EVENTS 2 and 3: Melbourne Cup Protest outside the Flemington Gates 448 Epsom Road – Tuesday 2 November 10:30am – 1pm.ORPicnic in the Park – Newmarket Reserve, Kensington 10:30am onwardsMore details on events 2 and 3 here.
All events still have spaces available. Please email [email protected] to hold your spot. Remember to indicate which event/s you would like to attend. We will respond via email to confirm whether we have been able to hold you a place.

NSW TRAINER AND STAFF FOUND GUILTY OF ANIMAL CRUELTY
Internal charges of animal cruelty have been laid against Warwick Farm trainer Bjorn Baker along with his ex-foreman and two stablehands of Bjorn Baker Racing.
The act of cruelty took place in the equine pool where it has been reported that a poly pipe and a piece of conduit were used to strike the two year old unnamed horse.
Still, the lawyer for the ex-foreman and two stablehands argued that:"There was no intention to cause pain, injury or suffering to the horse." All three received suspensions and will be returning to the industry soon. More here.
Since the above article was published, Mr Baker's case was heard and he received a $4,000 fine.
In all hearing statements Racing NSW are being very tight lipped about the actual acts of cruelty which took place.
GAI WATERHOUSE BACKS CAMPAIGN TO REINSTATE SA JUMPS
Just days after the fantastic news that Racing South Australia would no longer host jumps races, trainer Gai Waterhouse joined the calls to have the cruel races reinstated, telling the ABC "I love jumps racing and the reason I love it — it gives the horse an afterlife." More here.
The racing industry will be the first to deny horses are killed when not profitable. Yet, they are also the first to use jumps racing to claim it is the mechanism that saves their lives. Gai doesn't seem to understand she cannot have it both ways.
In any case, it is important to note that the current rate of horses used in jumps racing failing to reappear in racing at all the following year is 47%. Meanwhile, they are placed at even greater risk of injury and death. That's not much of the great nor long afterlife that Gai would have us believe.
Meanwhile, the calls to ban jumps racing in Victoria continue – the only state where this brutal cruelty persists. Watch our video summary of the campaign to end jumps racing in South Australia and take action to help ensure the same happens in Victoria here.
10 WAYS TO HELP HORSES THIS SPRING RACING CARNIVAL
There are so many ways you can help horses this Spring Racing Carnival. From hosting or attending a Nup to the Cup event or protest, to blacking out Network 10, to signing our petitions, boycotting sponsors, donating to our work or that of a horse rescue and more.
Check out our super helpful list of 10 Ways You Can Help Horses This Spring Racing Carnivalhere.









Thank you for reading and remember… speak up, always!