Dear Supporter,

It's just about a wrap from us for 2021 at CPR HQ. But before we go a little quiet for a week or two, we just wanted to send you one final update and also send our love and thanks for your support and dedication to the horses throughout the year. We have big plans for 2022 and can't wait to get stuck right in, but until then it's time to take a breath, reflect on the year that has past and prepare ourselves for what we hope will be our most productive year for the horses yet.

In this newsletter:
The Thoroughbred Aftercare Welfare Working Group findings released
CPR calls for Perth's Ascot track to be shut down after five horses killed
Steven Pateman continues to avoid disqualification
Horse racing cruelty features in the Guardian's 'Human Animal' series
The severity of Incentivise Melbourne Cup injury is slowly coming to light
Horrific track death of Australian horse in Hong Kong
Racing Victoria doubles down on jumps racing
Dirty dollars prop up The Everest
Racing targets children to help ensure its future
Rostropovich SOLD
Unlicensed horse burial pit
Our open letter to the EU Commisioner on AU horse meat
Upcoming protests and more…

TAWWG FINDINGS RELEASED
A two-year investigation exposing the brutal reality for thousands of racehorses every year once no longer wanted, (available here) led to the formation of the Thoroughbred Aftercare Welfare Working Group (TAWWG).

The TAWWG panel comprised of Dr Denis Napthine, Dr Ken Jacobs, Dr Bidda Jones and Jack Lake and was initiated and supported by a steering committee of industry participants.

In their report, released on November 29 2021, the TAWWG made forty-six recommendations, some requiring government legislation, others designed for the industry to adopt. The recommendations centre around greater industry transparency, government legislated horse welfare standards and the creation of a national welfare body, Thoroughbred Welfare Australia (TWA), funded by the industry itself.

Whilst we recognise these recommendations aim to improve the welfare of racehorses before, during and after racing, it is important the public recognises that:

1. these are just recommendations, with no requirement for them to be implemented
2. they are almost entirely dependent on the industry doing the right thing for the horses they have proven to use and abuse in the most horrific ways, without consequence, for so long.
3. they have only come about due to abhorrent standard practices horse racing has knowingly gotten away with for so long finally coming to light in the public domain. This report was by no means motivated out of concern for racehorses, but rather out of concern for the horse racing industry losing its social licence. This places immediate questions over not only whether the recommendations will be adopted, but can they actually be implemented and enforced?
After thirteen years of researching and investigating the horse racing industry, it is CPR's position that it is beyond redemption and can never be made kind for the horses it exploits. Horse racing exists to serve the human, not the horse, making it fundamentally flawed and inherently unethical to begin with. Having said this, so long as the industry persists, we must support any measures that can improve these horses' lives. For this reason, CPR supports the majority of the recommendations made in the report, however, we do not believe that the industry is capable of any kind of legitimate, meaningful and sincere reform, nor that any kind of reform can ever go far enough.
We do not support some of the parameters that guide the recommendations on 'End of Life' so have made an overall comment on this section at the very end of our review.
Like the Martin Inquiry, the TAWWG report once again highlights how badly this industry is failing the very horses it could not exist without, from birth to death.
It is also evident from the report that Australian's are rightly turning their backs on horse racing due to significant welfare concerns.
Our summary and comments on the TAWWG Report can be read here.
CPR CALLS FOR ASCOT TO BE SHUT DOWN
On Monday, CPR called on the Minister for Racing in Western Australia, Tony Buti, to shut down the Ascot Racecourse and launch an urgent investigation into the recent spate of deaths that have occurred at the track.
At least eight horses have been killed due to injuries sustained whilst being used to race on WA tracks since October – five of them at Ascot.
Last Saturday five year old gelding Expressionist sustained a fracture to his femur whilst being raced and was killed, making him the fifth fatality at the track in just over two months.
Any death of a horse in the name of gambling profits and entertainment is unacceptable, but five in such a short space of time at the one track should be ringing major alarm bells for the industry. Instead, it appears to be business as usual at Ascot with more races scheduled for today and for the upcoming Perth Cup.
As the Minister for Racing it is Tony Buti's duty to, at the very least, cancel this Wednesday's races and the Perth Cup, and launch an urgent investigation. To not take action on this dreadful situation would be unacceptable and could possibly result in more horse deaths in the coming weeks.
If our calls are ignored, CPR will be protesting outside the Ascot track on New Year's Day to say 'Nup to the Perth Cup' and to stand in memorium for all five horses whose lives have recently been taken. Please join us! Details here.
Rest in Peace
Battle Storm – seven years old
Boomtastic – five years old
She's God To You – four years old
Grinning Rupert – two years old
Expressionist – five years old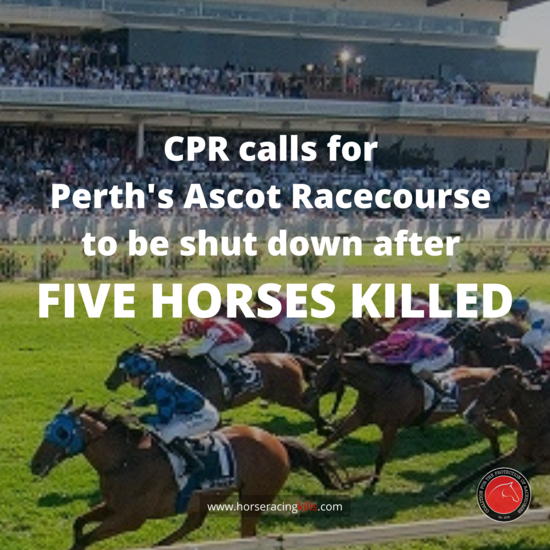 STEVEN PATEMAN CONTINUES TO AVOID DISQUALIFICATION
Jumps jockey turned jockey/trainer Steven Pateman and his partner Jess Barton were found guilty of administering cobalt to Sir Walter Scott at the Coleraine track, yet lengthy legal delays and appeals mean they have continued to ride and train horses – well over four years after the act and 19 months after the guilty finding.
Details
In September 2017 at Coleraine, a pre-race swab of Sir Walter Scott was later found to have a cobalt reading twelve times higher than the allowed 100 milligrams.
On 13 October, 2017, Pateman and Barton reportedly admitted that injections of substances containing cobalt were given to the horse.
According to Stewards, on 24 October 2017 there was a general denial and lack of co-operation. Then, they later tried to claim they made a false admission of guilt due to being tired and still drunk after a "big night out". Then, four months later, there was the belated production of a treatment note amidst some particularly poorly kept records.
On 16 March 2020, Pateman and Barton were found guilty of breaching AR 175 (h)(i) in that they administered or caused to be adminstered a prohibited substance, being cobalt, for the purpose of affecting the performance or behaviour of Sir Walter Scott in the race.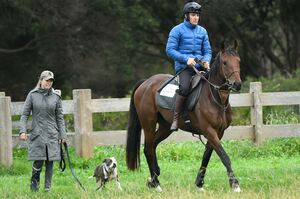 The penalty for such a breach is a mandatory disqualification for three years,unless special circumstances are found to exist.
After the guilty ruling, Mr Pateman and Ms Barton suddenly claimed "special circumstances" in that they had "impaired mental functioning" at the time of administering the cobalt.
The penalty hearing notes on May 2020 (available here ) make it clear why such a claim was not accepted and the stewards decision for a three year disqualification was ordered to stand.
The couple then received a 'stay', meaning they are not considered a disqualified person and have been allowed to continue to train and ride, based on them waiting on the outcome of another case claimed to be relevant to theirs.
Steven Patman and Jess Barton have since appealed their disqualification at VCAT, which resulted in an extension of the 'stay' and have their own hearing listed against Racing Victoria scheduled for May 2022 – so the 'stay' remains until at least then – almost five years after the offence occured.
To rub salt into the wounds, on September 12, Pateman was awarded the Tommy Corrigan medal for most outstanding jumps jockey and a tribute was made glorifying his work for the year when he should have actually been serving his disqualification – available here.
HORSE RACING CRUELTY FEATURES IN THE GUARDIAN'S HUMAN ANIMAL SERIES

Episode 4 of the new series 'Human Animal' from The Guardian focused on horse racing in the UK, where the issues the horses face are identical to here in Australia…. and so is the PR spin.
Watch 'Can horse racing clean up its image? Every single death is regrettable', featuring our international partner from Animal Aid Dene Stansal here.
SEVERITY OF INCENTIVISE MELBOURNE CUP INJURY SLOWLY COMING TO LIGHT
After news broke that Melbourne Cup runner-up Incentivise sustained an injury in the race, the industry was quick to report that he had "been cleared of serious injury by veterinarians."
One month on, we were made aware his injuries are severe enough that his racing future is in serious question and now we learn the horse has been offically 'transferred' from the Moody stable, with both his owner and his now previous trainer refusing to comment on the situation. More here.

Downplaying these injuries is by no means surprising when the world's biggest horse race is on the precipice of demise.

Incentivise is lucky to have the eyes of the world on him. Any other horse from any other race would most likely have "vanished" by now.

HORRIFIC TRACK DEATH OF AUSTRALIAN HORSE IN HONG KONG
On December 12, at least two horses were killed at the Sha Tin track in Hong Kong. Six year old Australian horse, Naboo Attack and seven year old New Zealand horse Amazing Star both suffered tremendously before being killed. The footage is distressing but we share it to help raise awareness on the brutal reality of horse racing, no matter where in the world it takes place. Watch here.

RACING VICTORIA DOUBLES DOWN ON JUMPS RACING
Rather than seeing the writing on the wall, Racing Victoria appears to be doubling down on cruel jumps races.
The 2022 season is set to see an increase in prize money and a scheduling restructure to capitalise on the demise of jumps racing in South Australia. Read more here.

Victoria is now the last state in Australia to continue hosting brutal jumps racing. Whilst Racing Victoria promotes themselves as being 'here for the horses' their actions are entirely in contradiction to that.

Proponents of jumps racing will tell you the 'sport' gives horses an 'afterlife' from flat racing, which is telling in itself, but also a short lived one. 47% of the horses who were used in jumps races in 2020 failed to reappear anywhere in horse racing in 2021.

CPR will be protesting jumps events again this year, calling out the industry and anyone else who supports them, including punters and sponsors. Stay tuned and take action to end jumps racing in Victoria here.
DIRTY DOLLARS PROP UP THE EVEREST
An ABC investigation released on December 16, reveals how weak regulation allowed cocaine kingpin Damion Flower to help expand NSW horseracing and fund The Everest, even though his horse business was running at a loss.
From the article:
While he was secretly building his cocaine empire, Flower bought racehorses with famous Sydneysiders including radio shock jock Alan Jones, rugby league legend Phil 'Gus' Gould and adman John Singleton. There is no suggestion any of his co-owners were aware of his criminal activities.
….it was Flower's ability to turn his bankruptcy around from 2014 and flush tens of millions of dollars through the horseracing industry that has raised the most serious questions for Australia's regulators.
What are they doing to ensure the lucrative sport is not used as a money laundry by local and foreign organised criminals?
"The exploitation by criminals of horseracing is significant," says Nick McTaggart, a leader in Australia's fight against money laundering.
Read the full investigation here.

RACING TARGETS CHILDREN TO HELP ENSURE ITS FUTURE
Racing is now getting children as young as eight onto the racetrack to help ensure the future of the killing and gambling industry.
It's sad these young ones have absolutely no idea what it is they are supporting. Children should be taught to love and respect animals, not encouraged to use and abuse them for gambling profits.
TIC CEO Maurice said:
"I went to this pony camp five years ago and I was talking to some of the kids and the parents and I was so alarmed that none of them knew anything about racing. Not about the career paths, not about the stars and that was the time Winx was heating up and I just thought 'wow, were not on the map and we've lost this generation.' So one of the main reasons we set up Thoroughbred Industry Careers was to set up pony racing."

Read the full article here.

ROSTROPOVICH SOLD
Remember that Melbourne Cup runner who came terrifyingly close to being the 2019 victim inbetween The Cliffsofmoher and Anthony Van Dyck? Remember how he struggled over the finish line a distant last with a fractured pelvis?

After sixteen months of extensive rehabilitation that would rarely be afforded to any other horse, Rostropovich failed to make the triumphant return to the track the industry would have liked, running last or near last in most of his subsequent eight races.

Of course those who have long professed to have so much love for him, recently put him up for grabs to anyone willing to make the highest bid. For $70,000 the six year old gelding is now headed to Western Australia where he will continue to be pushed beyond his limits to make his new owners some dollars.

Read the full article here.

UNLICENSED HORSE BURIAL PIT  
Last week the ABC revealed Victoria's EPA is investigating a pet crematorium over allegations it's dumped hundreds of horses in a burial pit, without a landfill licence, for more than a decade.
The business is owned by VetPartners, a $250 million conglomerate with an American parent, and has been used for years by equine vets from the racing industry, along with other horse owners.
Read the full article here.
The complicated issue of horse body disposal was raised in the recent TAWWG Report (referred to earlier in this newsletter) and highlights yet another of the countless issues that stem from breeding 13,000 horses into the Australian horse population each year, most of whom will be unwanted within five years.

Racing Victoria recently commenced their on-farm euthanisia program (Racing NSW have a similar program) to avoid racehorses being discovered at knackeries and slaughterhouses. Support, including body disposal, is provided to racehorse owners who engage this service. The only requirement is to have made two attempts to rehome the horse and the details surrounding this are private.

In our review of the report, we state:

"In an industry that attracts over $21 billion in wagering turnover and whose direct and indirect contribution to wealth is calculated at around $9 billion annually, there is absolutely no justification for a racehorse to ever be killed outside of on-farm humane euthanasia, by the true sense of the word ie when the horse cannot be helped and death is the only option to relieve their suffering from injury or illness. Being unwanted and unable to find another home is not and will not ever be a justifiable reason, especially so long as this industry is making any amount of profit and so long as it continues to breed more horses into the world.

"If a barbiturate is used, a horse cremation service should be engaged where burial is not possible, safe or in line with EPA requirements. If the owner cannot afford this cost, it should be covered by the relevant racing authority. Not covering such an expense, that will help towards ensuring a truly humane and dignified death and safe body management/disposal in a multi-billion industry is not acceptable."

Again, our full summary and comments on the TAWWG Report can be read here.

OUR OPEN LETTER TO THE EU COMMISIONER ON AUSTRALIAN HORSE MEAT
Even the industry appointed Thoroughbred Aftercare Welfare Working Group (covered above) has strongly recommended the racing industry place a ban on sending horses to Meramist slaughterhouse in their recently published report. Yet, the EU Commissioner for Health and Food Safety refuses to end the import of Australian horse meat – ignoring that it is in breach of their own regulations. The Department of Agriculture and Fisheries also continues to allow horses to be killed at the location.
From the report:
"The TAWWG found the use of the Meramist abattoir in Queensland (the only abattoir licensed to process horses in Australia) problematic. Many horses are transported long distances to the site in conditions unsuitable for thoroughbreds and the facility is not designed for horses. The TAWWG recommends that while there is a lack of species-specific standards enforced for horses, principal racing authorities should institute rules to prevent participants sending horses to Meramist."
 
Read more damning statements regarding Meramist from the TAWWG Report in our open letter to the Commissioner here and take action here. 

KICK OFF THE NEW YEAR SPEAKING UP FOR HORSES   
CPR will play host to three protests before the month of January is out. Attendees to the Perth Cup at Ascot, the Magic Millions in Brisbane and the Wellington Cup in New Zealand will all be guaranteed to see our signs and hear our voices as they do the walk of shame into the racetrack. Please join us if you can. Details here.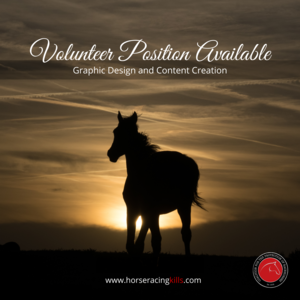 A volunteer position for a graphic designer has become available. If you have the appropriate skills and are passionate about creating a better world for horses, please complete our volunteer application form here.
The role is approximately two hours per week (more leading up to the Spring Racing Carnival) and flexible availability is ideal but not essential. Send any queries you may have to us here.
AND THAT'S A WRAP 
Wishing you much love and thanks this holiday season. May your days be filled with joy and kindness for eachother, including the wonderful animals we are so fortunate to share our lives with ❤ Even though CPR will be going a little quiet over the next few weeks we will still have our finger on the pulse. Do not hesitate to contact us at anytime if you have important information to share at [email protected]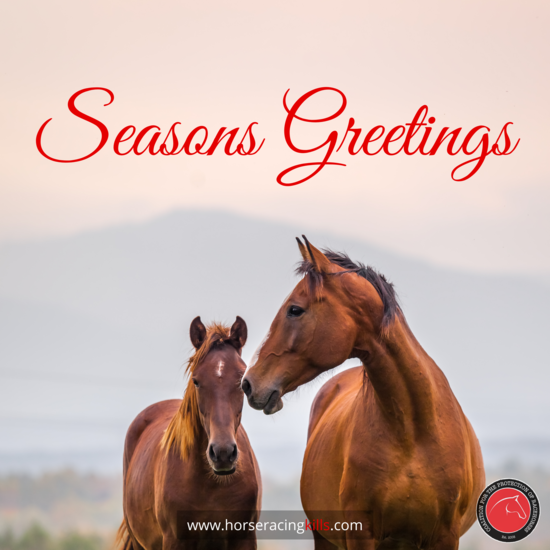 Thank you for reading and remember… speak up, always!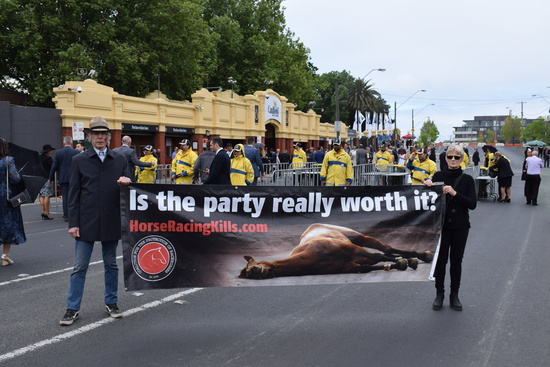 CPR relies 100% on donations to fund our investigations and campaigns. Without the generosity of our supporters we would not exist.

Thank you to all of our supporters who have donated recently. It is much appreciated and allows us to continue working toward justice for horses.
Click here to donate