Dear Supporter,
 
We are well into the new year and summer has come to a close, so we thought it was time to send out an update on just some of the things that took place over the hottest months of the racing year. We know our e-news letters can be a bit grisly due to the cruelty in horse racing knowing no bounds, so we are glad to say we are going to kick off and finish off with some more hopeful news for animals in this edition.



In this newsletter:
Sweden bans whips in racing
Racing calls parents 'woke' now they are no longer able to bribe schools
Racing WA goes from bad to worse
Sir Mark Todd whipping causes international outrage
Tragedy in the barriers
Happy Winner treated like a used car
Thoroughbreds at sales
CPR NZ annual injury and death stats
Racing NSW to capitalise on Melbourne Cup deaths
Vets who sponsor animal abuse
Nup to the Launceston Cup
NSW Greens announce animal sentience bill
Booze to boycott
Upcoming protests
The tennis is the new races 

SWEDEN BANS WHIPS IN RACING
"The use of the whip in Sweden has been discussed for years," said Helena Gartner, project manager of the Scandinavian Racing Regulations Committee. "The regulations have changed gradually and the foam-padded sticks were introduced some years ago, but now it is time to ban the use of the whip completely. Whip use in horse racing simply does not belong in 2022."

Unfortunately jockeys will still be allowed to carry a whip which they claim can only be used to prevent accidents. More here.

Neighbouring Norway made changes to whip rules way back in 1986. By 2009 they banned the use of whips in almost all races. Former Norweigan Jockey Club director Hans Petter Eriksen has made it clear that there have been no accidents resulting from jockeys not being able to carry a whip and steward Helge Byrgin has stated that anecdotal evidence suggests that there have been "fewer serious injuries to horses during the races than there were before."

Whilst whips are only the tip of the iceberg when it comes to horse racing cruelty, ending their use will without a doubt reduce horse injuries, torment and suffering. It is beyond time Australia followed suit. TAKE ACTION to #ditchthewhip here.
TOUGH TIMES WHEN RACING CAN NO LONGER BRIBE SCHOOLS 
 Earlier this week, Racing Victoria boss, Giles Thompson made no friends when he blamed 'woke' parents for keeping racing out of schools.
From the article:
… he admitted the industry had little luck trying to get into schools to promote all things good about racing, saying 95 per cent of schools had knocked back Racing Victoria initiatives, such as free educational incursions in schools, visits from horses or jockeys and excursions to racetracks.
"It only takes one parent to object to the headmaster or headmistress that you're encouraging kids to gamble, and that will shut it down," he said.
"When we could deliver [education programs], it was wildly successful. But you couldn't get into the schools. Ninety-five per cent of schools would say, 'we're not interested,' and you'd say, 'why not?' and they'd say, 'the parents won't put up with it'.

"It's 'wokeism' if you like, of, it only takes one parent to kibosh it when 50 parents might be pro it."
But Thompson said racing's challenge when it came to engaging children wasn't just gambling-related.

"If you think about what puts a school off racing, it's the gambling, it's the breakdowns of horses – horses breaking down in the Melbourne Cup is tragic for us in that environment – and it's how we're perceived," he said.

"That's a real challenge, and it certainly can't be fixed overnight."

Full article here.
RACING WA GOES FROM BAD TO WORSE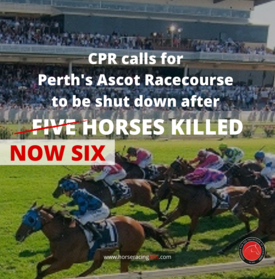 Track Deaths
You may recall in our last e-news just before the holiday season, we alerted you to the fact that since October at least eight horses had been killed due to injuries sustained whilst being used to race on WA tracks – five of them at Ascot. Sadly that figure has now increased to twelve, with six of the discovered fatalities occurring at the same track – Ascot.
Our calls to the Racing Minister Tony Buti to cancel the New Years Day Perth Cup and launch an investigation at the deadly track were denied. To demonstrate even more disregard, the Minister sent us a letter praising Racing and Wagering Western Australia for all its wonderful work in horse welfare.
Either Mr Buti knows nothing about the portfolio he carries or he is simply a tax payer funded industry mouthpiece.

The sixth Ascot death we were unaware of at the time was beautiful Pocoyo (pictured). The four year old gelding was yet to even be raced when he was injured and killed in trackwork at the Ascot course.
Heat Illness
WA experienced some brutally hot weather over the summer period. Temperatures in Perth climbed to over 40 degrees for six consecutive days but that did not stop the races from going ahead. Many horses were reported to suffer exertional heat illness on racetracks across the state, with at least three horses suffering the illness on one race day alone.
Exertional heat illness is a terrible condition to suffer. Symptoms vary depending on severity and include abnormal neurological function, disorientation, irritability, instability, collapse, convulsions, coma and even death. Stewards reports play down the severity with symptoms minimised or even not recorded in their reports. A milder version of the illness can be viewed here. 

Hot weather policies are very vague across Australian racetracks and allow much room to deviate from what is required to avoid horses suffering heat illness. Even when races are moved to less brutal times of the day, little if any consideration appears to be given to the fact that horses may have already endured extreme heat for several days prior to the meet and are often transported long distances in uninsulated floats without ventilation to reach the track.

Every which was you look at it there is suffering in horse racing and a lack of integrity among those bestowed to protect the horses welfare.  

WA Protests
Whilst the heat did not stop the races, it also didn't stop our dedicated CPR team in Perth who came together to say Nup to the Perth Cup. Thank you so much to everyone who attended.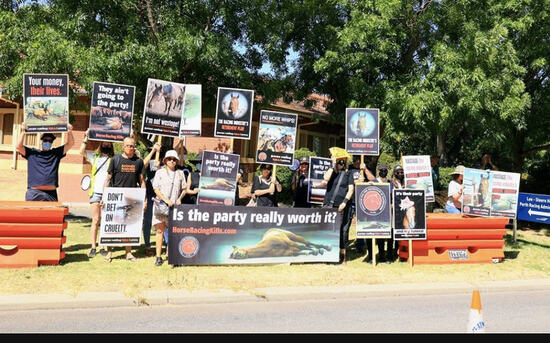 WOULD THE WORLD BE OUTRAGED IF HE AND THE HORSE WERE ON THE RACETRACK?
Several weeks ago, footage emerged of Sir Mark Todd whipping a horse ten times with a stick to make them go through a water obstacle.

The knighted equestrian champion has been a licensed racehorse trainer in the UK since retiring from eventing three years ago.

Whilst we absolutely condemn this act of violence, we must highlight that such acts of aggression and abuse are standard practice in the racing industry. Beating a horse with a racing whip is not unlike what Mark Todd has been exposed carrying out in a cross-country training session, yet his behaviour in this scenario has outraged the world. This says a lot about how much people are willing to accept blatant animal abuse when it occurs in a scenario where they are used to seeing it. Watch the perfect example here.

Racing industry proponents were quick to go into damage control, using this incident to call on the British Racing Authority to change the name of the whip to something more palatable such as a "procush" or the "encourager" believing the public will not associate beating a horse with an object as a form of abuse if the object has a different name – see here.

As another example of this disconnect when it comes to horse racing, New Zealand horse Rocket Science didn't want to go into the barriers so he was struck repeatedly with a buggy whip around his croup, flank and the back of his legs. Watch here. The four year old gelding was eventually scratched from the race but had he not been, he would have also been subjected to the standard industry practice of being beaten with a regular racing whip on the course.

The abuse Mark Todd subjected this horse to was rightly condemned by the world. We are calling on the public to make the connection between the appalling abuse Sir Mark Todd subjected this innocent horse to and the standard industry practices that occur daily in horse racing. People must join the dots and see that such abuse should never be accepted simply because it occurs on a racetrack.
TAKE ACTION to #ditchthewhip here.

For more abuse behind the barriers, watch here and here. Captured at the New Plymouth racetrack by CPR New Zealand and Taranaki Animal Save

TRAGEDY IN THE BARRIERS
 "UNRULY", "PLAYING UP", "HOTHEADED", "AWKWARD", "A REAL PROBLEM", "POOR BARRIER MANNERS", "RELUCTANT TO PROCEED TO GATES", "DIFFICULT TO LOAD".

This is how Moonshine Lady has been described over the years by trainers and stewards for not wanting to be forced into the barriers to race. They repeatedly ignored her objections and this ultimately led to her death. Horses regularly become fractious and panicked inside the barriers with many dragged by the bit or hit with a buggy whip just to get them inside. For Moonshine Lady, her refusals were so great that she had been embargoed on five previous occasions.

At Randwick on February 12, the six year old mare once again panicked after being forced into the barriers. She reared and consequently became stuck, sustaining a catastrophic injury to her upper right forelimb. The veterinarian on duty decided her injury was so great that she had to be "euthanised". The words now being said about Moonshine Lady in horse racing circles are "oh no", "condolences to her connections", "is she ok?", "that looked horrible", "has she survived?", "that looked horrific".
 
Moonshine Lady's fears and objections to racing were repeatedly ignored because she was seen as an object to make money from and it cost her her life.

Rest in Peace Moonshine Lady. We are so sorry.

Read our article on how common it is for horses to become stressed from being forced into the barriers here.

A USED CAR MAY HAVE BEEN GIVEN MORE CONSIDERATION   
In January, Racing NSW stewards found trainer Joanne Hardy guilty of actions which likely led to the death of three year old gelding, Happy Winner.
Happy Winner suffered an injury to his off-fore superficial digital flexor tendon and required a recovery period and rehabilitation program. Ms Hardy failed to disclose this information both when advertising him for sale and to the subsequent buyer – another industry trainer Brett Robb. Mr Robb put Happy Winner into a "work program" that was contrary to the recovery period and/or rehabilitation program he required before he suffered a catastrophic injury to both fore superficial digital flexor tendons and was euthanased.

Ms Hardy paid $15,000 for Happy Winner in March 2021. By April she was aware of the injury and by June he was listed for sale. She never made a cent from him before he was injured and presumably wanted to recuperate her costs. Happy Winner was treated more like a used car than a living being, which should never surprise in an industry that uses animals for profits.

Joanne Hardy has been suspended for eight months for her actions, plus an additional two months for providing misleading evidence to stewards. Full report available here.
THOROUGHBREDS CONTINUE TO BE BRED WHEN THERE SIMPLY ISN'T THE HOMES 
 Fifteen thoroughbred horses were listed for sale in the recent Andrew Wilson Online Sales. Twelve were 'passed in' – many not coming close to their reserve.
Several were still listed as 'ACTIVE' by the racing authority.

Some have never been raced.

Others have been raced as recently as December last year.

Two horses did not even have a reserve.

Several remain at serious risk of being purchased by kill buyers.

All, once sold, will end up in the hands of strangers, with the sellers having no idea or control as to what their lives will be like and their eventual fate will be.

A good life expectancy of a horses is 25+ years.

The average time a horse is used in racing is less than three years.

The racing industry continues to breed 13,000 horses a year knowing the vast majority of industry participants no longer have an interest in keeping them once they can no longer race them (that's if they make it to the track at all) and that there is clearly not enough demand to find them post racing homes.
The racing industry just doesn't add up. It never will.
CPR NEW ZEALAND RELEASES ANNUAL INJURY AND DEATH STATS
New Zealand racehorses suffered tremendously across 2021.Sadly, twenty-five of them lost their lives on the racetrack – their average age just five years old. Deaths resulting from injuries sustained in trials, training and trackwork are not included in this figure as the industry does not report these deaths.
306 injuries sustained whilst racing were recorded and some contribute to the 3,000 (approx) horses who vanish from NZ thoroughbred racing each year and remain unaccounted for. More on that here.
Rest in Peace

Communique – 5 years old
Fasong – 5 years old
Megavision – 3 years old
Truefalls – 5 years old
Gamester – 4 years old
Kaharau – 10 years old
No Dancing Today – 3 years old
Man oh Man – 5 years old
Woletthefoxout – 7 years old
Kool Power – 4 years old
Pablo Esk – 4 years old
Barry's Choice – 3 years old
Our Cuzzie – 5 years old
Cutting up Rough – 8 years old, Speck Savers – 4 years old, Canadian Mountie – 3 years old, Oceana Lad – 5 years old, Falco Three – 4 years old, On Show – 4 years old, All Night Long – 5 years old, Wowwhata Haradasun – 3 years old, Altar Boy – 4 years old, Rock on Wood – 6 years old, Americo – 4 years old, Trickle Treat – 5 years old
RACING NSW TO CAPITALISE ON CUP DEATHS
Racing NSW is working to capitalise on the demise of the Melbourne Cup event that has seen at least eight horses killed in nine years, by scheduling a new $2 million race event 'The Big Dance' at Royal Randwick on Melbourne Cup Day. Article here.

Whilst 'The Big Dance' aims to lure the younger generations who are turning their backs on horse racing to the track, they must be made aware that track deaths are not reserved to the Melbourne Cup. What's worse – whilst the 2021 Melbourne Cup was spared another track death, on that same day six year old gelding The Grinder was killed at the very track where 'The Big Dance' will be held.

Wherever there is horse racing there will be horse suffering and horse deaths.

Say #NuptotheBigDance and #NuptotheCup.
VETS WHO SPONSOR ANIMAL ABUSE
We recently observed some interesting comments regarding a registered veterinarian being implicated in the probe into race-fixing and cocaine trafficking last year.

We 100% agree that it is an absolute disgrace to learn a vet is allegedly involved in such a rort and felt this was a good opportunity to highlight something we have long found very disturbing.
It is not uncommon to see veterinary practices sponsoring horse racing. For example – the Bendigo-based clinic Apiam Animal Health has long been a supporter and sponsor of the Bendigo Jockey Club, and in 2020 became a major partner. In fact, Apiam Animal Health were direct sponsors of at least two races that resulted in the death of horses in the last racing year – six year olds Skilled Assassin, and later Super Girl, in the Bendigo Cup.

Southwest Equine Veterinary Group is another regular horse racing supporter. Perhaps even more shocking is they have been a long-time and frequent sponsor of jumps races at the Warrnambool track. In 2020 they directly sponsored the jumps race which caused the shocking fall of eight-year-old Unabashed and ultimately took his life.

There are so many wonderful, dedicated and passionate vets out there who work tremendously hard and truly care about the wellbeing of animals. In becoming a vet, one must make a commitment to animal health and welfare and many suffer emotionally and physically from the heavy burden of the work.

It is possible to work as a vet to improve the health of all animals, including those who are used in racing, but to endorse the cruelty and suffering inflicted upon them as a registered veterinary practice, and use their suffering to promote your business is unacceptable and an absolute betrayal of the very animals whom they are supposed to protect.
NUP TO THE LAUNCESTON CUP
Huge thanks to Direct Action Everywhere – DxE – Tasmania for saying Nup to the Launceston Cup last week. Racegoers could not ignore their message on the cruelty they were supporting as they entered the gates.

 Interestingly, the news article here quotes a Tasmanian government representative strongly defending the industry and stating:

"To improve transparency on animal welfare, Tasracing is providing information in their annual report on track injuries, euthanasia, retirement and re-homing statistics. The majority of industry participants provide great care to their animals."

As far as we can tell, 2021 was the first annual report to record such statistics. Could this be in response to our damning article in late 2020 that exposed the number of horses vanishing from TasRacing each year? A finding that is supported by the Tasmanian governments own former Manager of the Office of Racing Integrity who admitted that Tasmanian racehorses are routinely shot in the head. More here.

In any case, the annual reports' published statistic on the number of horses exiting racing each year is very close to our findings. What is farcical is the TasRacing breakdown on where those horses go. More on that shortly.

In the meantime, huge thanks again to DxE Tasmania for their presence at the track. If you'd like to do the same at your local track, please get in touch with us for guidance and support.  

A BIG STEP IN THE RIGHT DIRECTION FOR ALL ANIMALS 
On February 24, the NSW Greens gave notice of a Bill to change their animal welfare laws to explicitly recognise that animals are sentient beings.

Greens MP Abigail Boyd stated:"Is it any wonder that the law is failing animals when NSW's animal welfare legislation is framed to view animals as a kind of property, failing to recognise the agency or capacity for emotions and awareness that animals have? My Bill will correct this major omission and lay the foundation upon which we can build better animal welfare standards in this state."
 Huge thanks to Abigail Boyd and the NSW Greens for this important step towards creating a better world for all animals. Governments at all levels have for too long not only disregarded the sentience of animals, but have supported, defended and benefited from their abuse and exploitation. Their strong backing of the horse racing industry and refusal to implement any desperately needed legislative changes is a clear example of this.
 

ENJOY A DROP?    
Whatever your tipple, here is a list of the booze brands who have sponsored horse racing over the past few months across the country. Only some are featured in the below graphic.

Take your business elsewhere and add your name to our letter to ensure they know about it here.
Beer
Furphy Beer, James Squire, Coopers, Carlton & United Breweries, Guiness, Heineken Australia, Hahn Beer, Swan Draught, Emu Export, Iron Jack Australian Lagers, Great Northern Brewing Company, Byron Bay Brewery, Cascade Brewery, Tooheys
Wine
Seppelt Wines, Champagne MUMM, Debortoli Wines, Penfolds, Paxton Wines, DiGiorgio Family Wines, Leconfield Wines, Mr. Riggs Wine Co., Fox Creek Wines, Zonte's Footstep, Barossa Wine Cartel, Belvidere Winery, Devil's Lair, Orbis Wines, Brown Brothers Winery, Angove Family Winemakers, Chandon Australia, Moët & Chandon, Petaluma Wine, Buller Wines, Bleasdale Vineyards, Hungerford Hill Wines, Bremerton Wines, Lake Breeze Wines, Taylors Wines, Oatley Fine Wine Merchants, Jackrabbit Vineyard
Spirits
Maker's Mark, Canadian Club, Suntory ROKU GIN, White Claw Hard Seltzer

Mixers
Schweppes
SAVE THE DATES – ADELAIDE CUP, JUMPS, ALL STAR MILE AND MORE..
CPR will be protesting across Australia and New Zealand throughout the year. Some dates are confirmed with plenty more to come.
Adelaide Cup – CPR is joining forces with Animal Justice Party South Australia and Animal Liberation SA to say Nup to the Adelaide Cup. Morphettville Racecourse SA – Monday 14 March 9:30am
All Star Mile – The All Star Mile is sponsored by Seppelt Wines. We will use this opportunity to encourage the public to boycott their products as we call them out for attempting to profit off the back of blatant animal cruelty. Flemington Racecourse VIC – Saturday 19 March 11:30am
The Championships – Joining AJP NSW, Animal Liberation and Sydney Animal Save, we will have a strong presence outside Royal Randwick. Saturday 9 April 10:30am

Warrnambool Grand Annual Steeplechase – Thursday 5 May, time tbc

Ballarat Grand National – Sunday 28 August, time tbc

For more details keep an eye on our Facebook events page here or our website here.
See you there!
AND THAT'S A WRAP
But before we run, here is a promising article that appeared in a travel publication titled 'THE TENNIS IS THE NEW RACES'

"Once upon a time, the Spring Racing Carnival was *the* social sporting event to attend in Melbourne. But the tide has turned."
Ain't that the truth!

For the list of just some of the great reasons why it's a much better day out when you hit the courts not the track (with a splash of good humour) read the article here.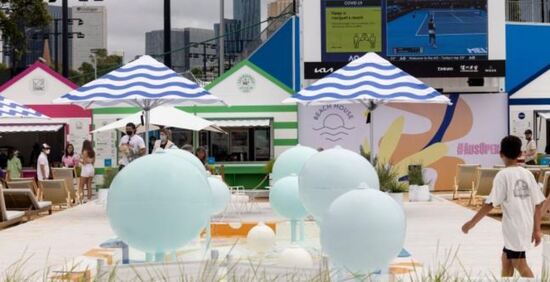 Thank you for reading and remember… speak up, always! 

Huge thanks to CPR New Zealand for protesting outside the recent Wellington Cup

 CPR relies 100% on donations to fund our investigations and campaigns. Without the generosity of our supporters we would not exist.

Thank you to all of our supporters who have donated recently. It is much appreciated and allows us to continue working toward justice for horses.
 Click here to donate