Dear Supporter,
In this newsletter:
Say Nup to the Cup – Join the Movement! Get Involved!
Spring Racing Carnival Protests and Events
Call for Volunteers
Victoria's 2023 Jumps Season Wrap Up
Deathwatch 2023
Damning Review into Racing Victoria's Victim Support System
LION Beverages Defends Animal Abuse
CALLING ON BUSINESSES, ORGANISATIONS AND INDIVIDUALS TO SAY NUP TO THE CUP!
Say "Nup to the Cup" this year!
but what is it?
It's about having fun on Melbourne Cup Day but without the cruelty. We want you to join us in celebrating animals – not exploiting them.
Our organisation, the Coalition for the Protection of Racehorses (CPR), has a vision of Nup to the Cup becoming the norm. But we can't do it alone. We are asking you to get on board this year and say Nup to the Cup. Our collective voice will become louder than ever before and spread the message that celebrating animal abuse is not okay.
We are inviting all businesses, organisation and individuals to say Nup to the Cup. There are so many ways to get involved, big or small, and we're here to help. From hosting your own large-scale event, to running a fun activity, to simply adding a Nup to the Cup food or drink special to the menu or a dedicated Nup to the Cup item to your online store. However you can get involved, in whatever capacity, your efforts will help towards showing people you can still have a great time without supporting animal abuse.
No matter how big or small you make saying Nup to the Cup, you can register it with us at nuptothecup.org.
Whilst you're at it, take a squiz around the site. We offer 'how to' tips, support kits and more. We can also offer promotional support of your event via our website, socials, and traditional media reach. Anything from a private ticketed event, a live gig, trivia, human races, an exhibition, a club night, a band gig/festival, a day for the kids, or even just a special customer offering. Whatever you have the capacity to create, so long as it is cruelty free and saying Nup to the Cup, it's a WIN! Why not make it a fundraiser for your favourite animal charity while you're at it. It could even be on Cup Eve or the weekend prior to the official Melbourne Cup if that suited you better.
From humble beginnings in 2010, the Nup to the Cup movement has slowly but surely been gaining momentum. Help us make Nup to the Cup 2023 HUGE! so that the first Tuesday of November officially becomes a party FOR the animals!
For more information visit nuptothecup.org. Please don't hesitate to get in touch with any queries you may have via reply email or phone us on 03 9016 3277.

UPCOMING PROTESTS AND EVENTS
Rally at the Caulfield Cup
Saturday 21 October, 2023
Melbourne Racing Club – Gate 23 Caulfield Racecourse, Station Street, Caulfield, VIC
10:30am – 12:30pm
Dress: Smart casual at a minimum. Dress as if you are going to the races is even better.
Banners and posters will be provided. Follow the event and invite friends here.
Protest at Derby Day
Saturday 4 November, 2023
Flemington Racecourse – opposite main entrance – 448 Epsom Road, Flemington VIC
10:30am – 12:30pm
Dress: Smart casual at a minimum. Dress as if you are going to the races is even better.
Banners and posters will be provided.
Follow the event and invite friends here.
Disrupt Cup Eve Celebrations – to be confirmed
The City of Melbourne seem to be keeping any potential plans for the usual Melbourne Cup Eve Parade close to their chest. So we can't provide much detail at the moment other than to say SAVE THE DATE! Monday 6 November, 2023.
Farshans on the Field – Australia's Official Nup to the Cup Party!
Tuesday 7 November, 2023
Flemington – exact location to be announced shortly
11am – 6pm
More details to come including live music, DJ's, human races, delicious food and more.
All we can say for now is it is VERY EXCITING!
For other Nup to the Cup events being held across Australia keep an eye on our website here.
CALLING ALL ANGELS
Volunteers are the bones of the Coalition for the Protection of Racehorses – especially during our busiest time of year, the Spring Racing Carnival. If you can help in the leadup to and/or on Nup to the Cup Day (Tuesday 7 November), please complete the form here and we'll be in touch.

VICTORIA'S HORROR 2023 JUMPS RACING SEASON WRAP UP
Watch our 2023 season wrap up here.
24 horses fell
29 finished lame
58 failed to complete the course
5 horses were killed (that we know of)
Almost half of the horses who were used in the 2023 jumps racing season will not be seen in jumps or flat racing again and no explaination will be given of their whereabouts.
These are the industry's new 'safe' hurdles.
Victoria is the last Australian state to support jumps racing.
TAKE ACTION here
DEATHWATCH 2023
Our Deathwatch Report 2023 and it's accompanying video will be published any day now. We're sorry to say, despite the racing propaganda that they acting to address racing injuries and deaths, our reserach proves this is far from the case. Sadly, we are about to publicly reveal that the death toll for the 2022-23 'racing year' is the worst on record.
We'll need your help in getting this information out to the public. Stay tuned!
DAMNING REVIEW INTO RACING VICTORIA'S VICTIM SUPPORT PROCESS
The abuse, entitlement and protection of perpertrators to ensure the institution of racing animals for gambling profits and prestige continues has long extended way beyond the horses.

The Guardian's headline reads 'Sexual assaults and ritualised violence uncovered in review of Victoria's racing industry'
.FROM THE ARTICLE:
Carroll said he had heard devastating accounts of physical and sexual abuse, including rape, sexual and physical assault, humiliating initiation practices, "ritualised violence", grooming and harassment.
Children as young as 12 and young recruits were among the victims, and some of the abuse took place in recent years, the review found.
"The dark flip side of loyalty has been a culture of silence across the industry that is underpinned by an historical and widespread, tacit discouragement of reporting," the report said.
"At times, those who have raised complaints have been the subject of overt retaliation.
"A number hold the perception that perpetrators of abuse have been protected."
Read the full article here.
Review into Victorian Racing Industry Victim Support and Complaint Process in full here.

DRINK RESPONSIBLY
Lion Beverages seem to be unaware that there are many ways to celebrate without harming animals!
Note: this is not an exhaustive list of booze brands that directly support or are under a group that sponsors horse racing.

Thank you for reading and remember… speak up, always!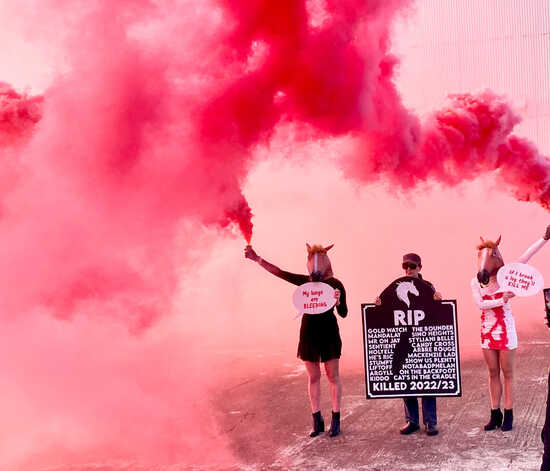 CPR Aotearoa make a statement outside New Zealand Thoroughbred Racing Awards Night